Party Hall Facilities
Party halls in anna nagar with 2 rooms and modern Air conditioned hall for all parties and cultural events.
Facilities – Seating Capacity
Party hall having a seating capacity of 50 100 200 250. Air-conditioned dining hall with a capacity of approximately 200 people with modern tables and chairs and large kitchen area, with fanatical toilet and rest rooms for catering staff and managers.
Party Halls Parking Facility :
Ample car parking facility for more than 200 cars with 100 two wheelers with internal road and well equipped lamps for night parking. Air Coolers can be avail with low extra cost charged. Extra Beds, Pillows, Bedspreads, Bed Sheets etc, can be availed for minimum extra cost. We observe the protection instrument occasionally. Whole parking area is covered by a ceiling which helps to look after your vehicle from Rain or Shine. Special trained Security Men for safeguarding your vehicles and other things from any miscellaneous activities..
For Party Hall Booking :
Please contact –94440 71538
Party Halls Convenient location
Choose an party event halls that is convenient for your members to enter and without driving too much. Take into account the logistics of arriving and leaving, the program's opening and close times, and the daily traffic, before cementing in the venue. If nothing works, intend to move all the participants to the venue.
Stunning Party Halls Stage Decors
The standard of the banquet hall is without fail extremely high. Every furniture, machinery and fabric is inspected and checked before every party event to ensure that no crashes occur. The quality is achieved by training banquet halls in a matter of seconds for spotting a broken leg or ripped tabletop.
Air Conditioned Party Halls
Make sure you get all the services you need to your system at the event location. It depends entirely on the essence of your corporate party event. Nonetheless, most corporate events require good air-conditioning in the halls. If more than one item is on the agenda in accordance with your case, pick the venues depending on the number required for each.
Professional party event Planning in Party Halls
Our enthusiasm for your party event halls rental is that we support people in the Plymouth region and have had exceptional events as they intended. We have been made an innovator in our rentals and our constant hard work because of our responsibility to provide superb customer service.
Best Catering Services in Party Halls
The best and most efficient supplier of chennai cooking services. We organize a lovely wedding organizer, super birthday parties, completely minded blowing meetings and pressed corporate party events halls to coordinate our experiences and assets towards a distinguished customer administration.
Spacious Guest Rooms in Party Halls
You can not allow yourself to ignore any planning decisions, or you can not attend the invited friends, relatives and acquaintances. Any problems arising when preparing an party event alone can be overcome through the reservation of a banquet halls. Booking a banquet hall offers you countless advantages, from a fantastic location to a competently run task.
Multiple Dining Facilities in Party Halls
A food is a cooking style defined by unique attachments, policies and foods and usually linked to a certain culture or geographical location party halls. The slavery that can be accessed locally or through trade is primarily affecting a food. You must make a special opportunity of it! You must first find a perfect spot to celebrate the happy day with your family and friends.
Ample Parking space in Party Halls
Parking is an important factor, especially if the corporate party event takes place in the city halls. If you do not schedule it, the traffic snarls and frayed temperatures can go south very quickly. You want to provide participants with the most pleasant experience possible. Don't skimp on this aspect, therefore! You can even see if there are valet services available in the event venue.
Beautiful Floral Decorations in Party Halls
Are you soon going to get married? Has the date and the location of the wedding party been completed? Decorations have evolved over time in banquet location in Chennai. People are playing with textures, colors and lightings nowadays. But when it comes to banquet halls the floral design remains at the forefront. Flowers bring to the wedding hall a beautiful and fascinating finish.
Marriage Hall Main Entrance
(Entrance from Aminjikarai Bus stop)
Created on 05-01-2017
Posted By – Kumar Admins
Stage Decoration Photo
(Marriage dated 23-01-2017)
Created on 25-01-2017
Posted By – Senthil Admin
Kalyana Mandapam Outer View
(Kalyana Mandabam full views)
Created on 31-01-2017
Posted By – Kumar Admins
Dining Hall Photo
(Dining Hall View)
Create on 31-01-2017
Post By – Kumar Admin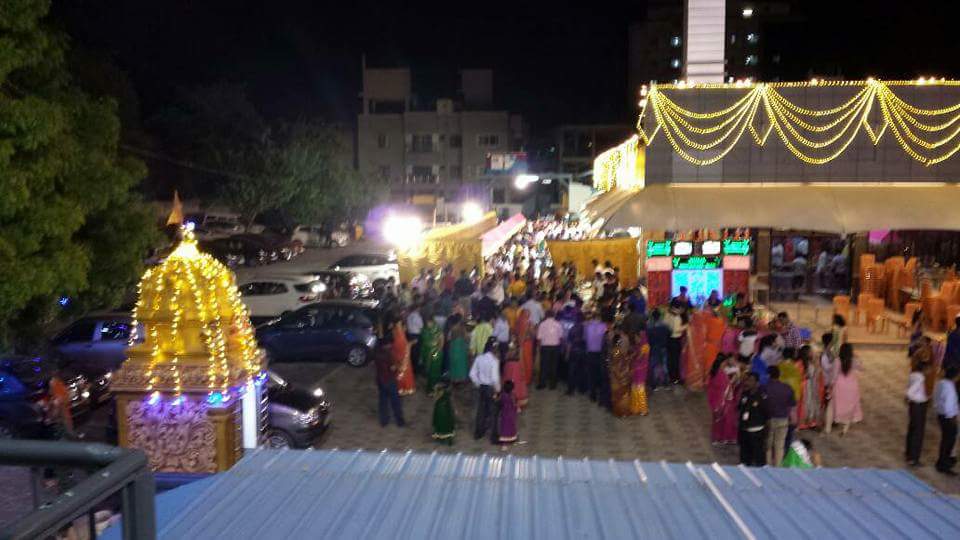 Parking Lot Photo
(Parking Lot Photo)
Create on 31-01-2017
Post By – Kumar Admins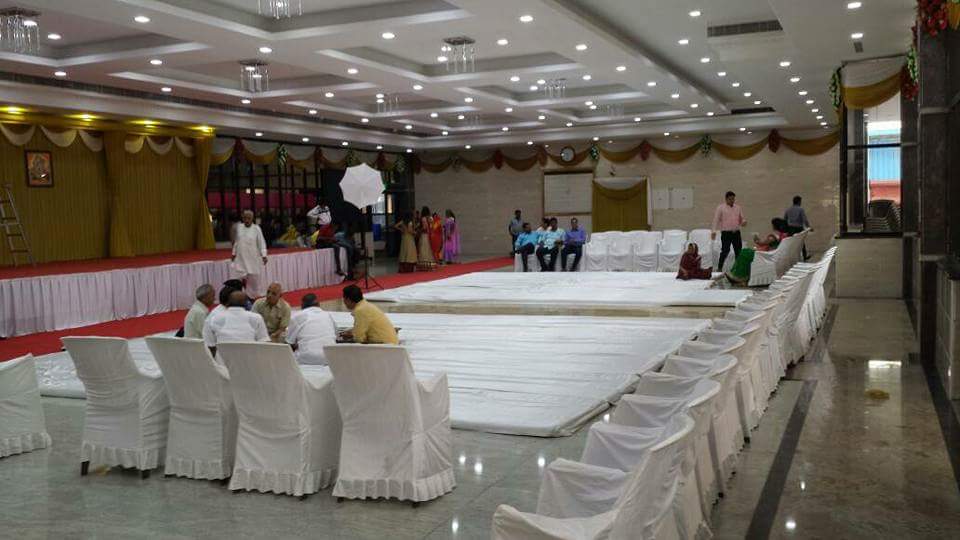 Party Hall – Inner View
( Inner Views)
Create on 31-01-2017
Post By – Kumar Admin